When two powerful Hawaiian surfboard signatures that are pivotal to surfing and have made outstanding contributions to the rich history of Hawaii's ocean culture meet… We are honored and humbled to announce the new Lightning Bolt x AIPA Surfboards' collaboration, as a tribute to the life and work of our founders. As a result, we'll be marketing exclusive, unique and amazing AIPA BOLTS, with brand authenticity hologram.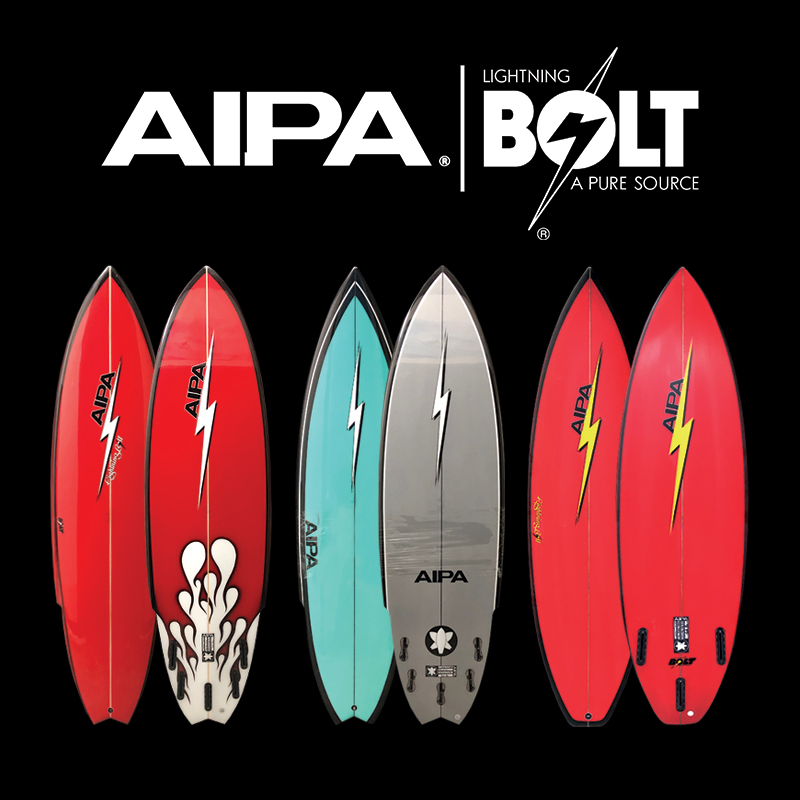 Facts: Legendary surfer-shaper-coach BEN AIPA was big, menacing, talented and super influential during the early shortboard years. He's been shaping since 1966, combining custom designs, with handcrafted experience from Hawaii, with crucial contributions to surfboard design and development. Ben invented the innovative swallow tail and the radical "Sting" surfboard, influencing shapers and surfers worldwide. Validated underfoot of Surfers, such as Larry Bertleman, Dane Kealoha, Mark Richards, Buttons, Mark Liddel, Derek Ho, Sunny Garcia, Brad Gerlach, Kalani Robb and both Andy and Bruce Irons. Ben Aipa ran successfully a surf shop for nearly 5 decades with amazing accomplishments throughout an unprecedented and storied career.
Today, DUKE AIPA, Ben's youngest son and heir of the Aipa legacy, is carrying forward the AIPA brand, through embracing the essence of the true surfing spirit and its roots in a sustainable lifestyle. He believes that in classic surf culture and Hawaiian style, it's more about the communion with the ocean and Mother Nature. That's how he honors his namesake, Hawaiian heritage and family lineage.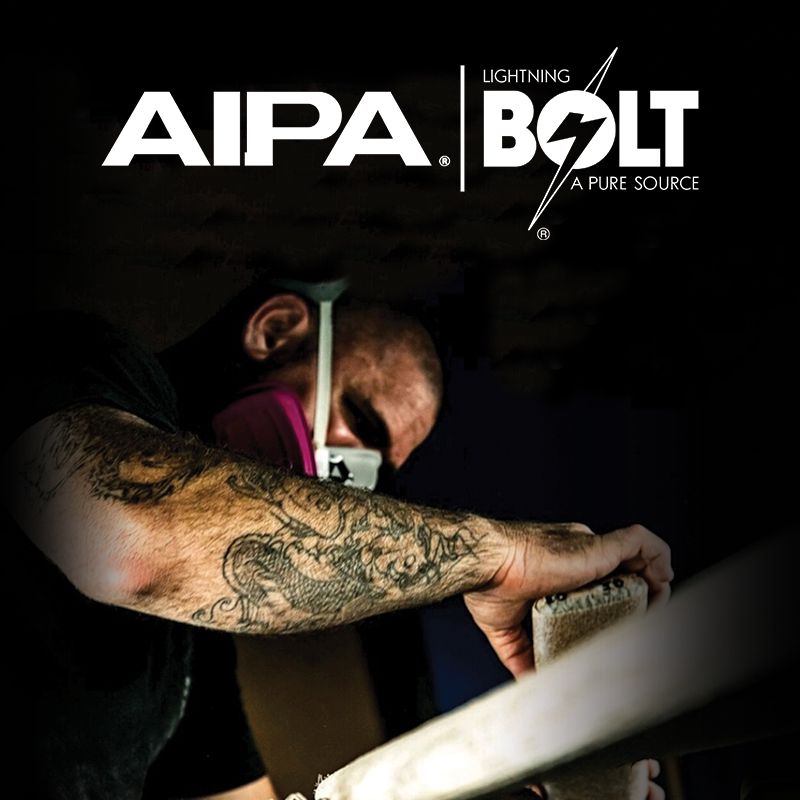 In 2020, a new and auspicious collaboration gathers iconic and heritage Lightning Bolt and Aipa Surfboards brands. We proudly bring Duke Aipa as an Official Lightning Bolt Shaper to the Team Bolt, along with Gerry Lopez, Rory Russell, Tom Parrish, Reno Abellira, Barry Kanaiaupuni, Craig Hollingsworth and Paul Blacker. We're grateful to team up with kindred spirits and happy to share this conversation with Duke.
You've been named after your father's mentor, the great Duke Kahanamoku who is known as the grandfather surfer and was a true ambassador of Aloha. Do you see it as a life mission or is it sometimes a heavy burden to carry?
Growing up, it was never easy to carry the name of the great Duke Kahanamoku nor being my father's son. At a young age I imposed a pretty massive amount of stress on myself to maintain what or who I thought I needed to be in order to live up to my name.
After all, We are talking about 2 great Hawaiian men, larger than life, that were crucial in not only Surfing, but in the representation of what it meant to be Hawaiian.
It's often said, that the older you get, the more different you view circumstances. Today, I find it is an unparalleled honor to embody and share Aloha in the same manner the Duke and my father have in every board I make.
Also, the Aipa family has often been referred to as surfing royalty… How do you feel about this?
Though surfing is in our family's blood (picture below is the first photographed surfer and happens to be my great great great grandfather).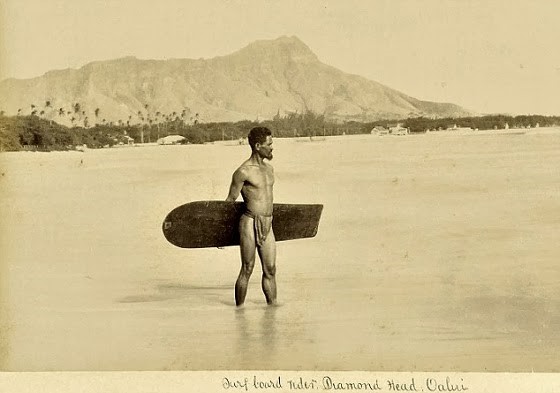 The idea of surfing royalty is based on my father's impact on the sport… When I'm asked this question, I reflect back and share the simplest of comparisons… My father, although the greatest influencer in surfing history in his time, was still just my father… He went to work, he came home… To me, he was just dad.
Again, it's about the vantage point… as a kid I grew up in the middle of it all, surrounded by the greats and legends of our sport and it was of no consequence, it didn't matter… LOL I mean it is kind of funny when I tell people that Buttons was my babysitter…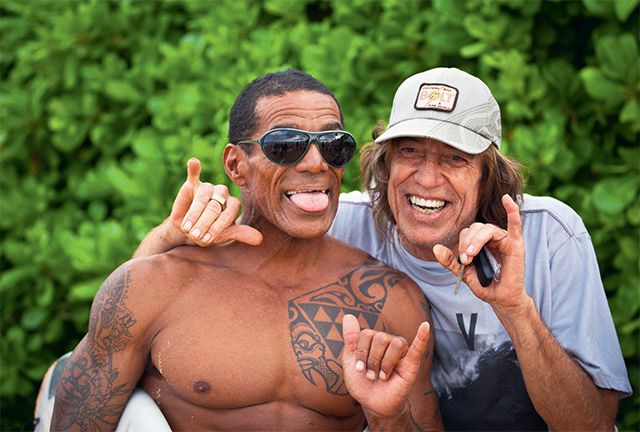 Buttons with Rory Russell, winter 12/13. Photo: Joli
Fast forward, as a teenager I kind of got it… still at that age it was pretty ridiculous to hear, but in the same sense somewhat of normal. Now, I embrace it as a privilege and duty to be the best reflection on my family name and heritage.
How did your father influence your vision of shaping and surfing?
This might sound like a Yoda talking to Luke Skywalker answer, but here we go… Surfing is what we knew growing up. It was as much of our lives as going to sleep and waking up. So, with surfing or shaping, the lessons from our father were based in functional VISUALIZATION and the observation of life… all around us… not just the waves or the surfers, no, it was everything. From the birds flying through sky to ice skaters gliding across the ice to boxers in a boxing ring. There was no tunnel vision it was a kaleidoscope of form and function.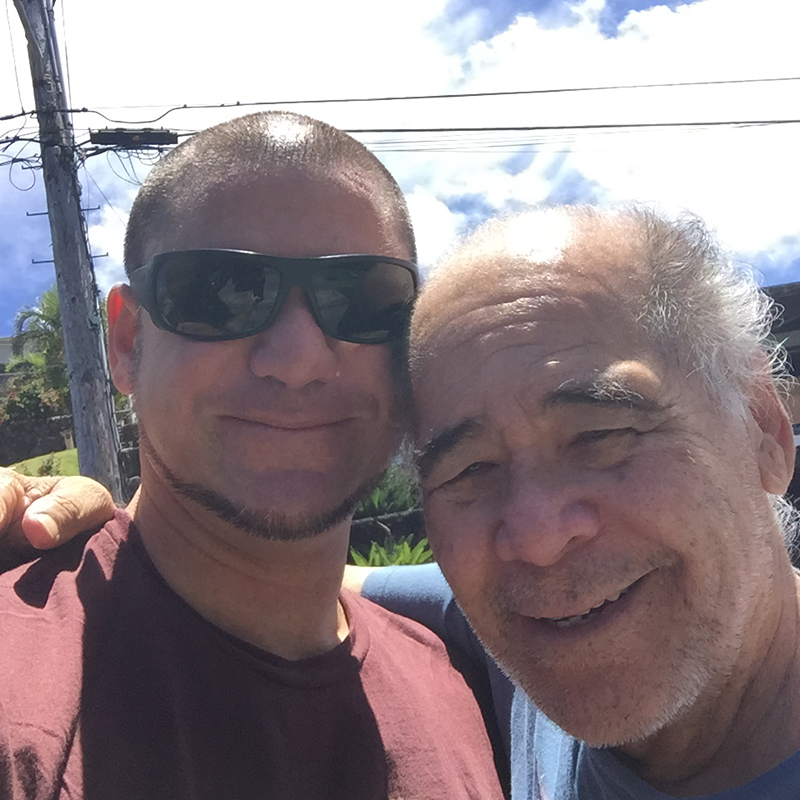 Duke Aipa & Ben Aipa
Is there any story you father told which you find important to share?
There are so many… I think we can start more toward the beginning of his surfing journey to answer this. When he fell in love with the ocean….
My father was a competitive swimmer and all-star football player in high school with a promising football career in front of him. Ultimately, he would injure himself and be unable to continue a career path in football. Fast forward to a 20 year old Ben Aipa, that still hadn't surfed a day in his life until the tail end of 1964. He was working in the union as a longshoreman and took a lunchbreak with his cousin. (this next part is almost biblical) They were walking the beach at Waikiki in front of Queens, when a board washed ashore, with NO surfer anywhere to be seen. My dad's cousin took the board out first, caught a little insider and fell off… My dad took his turn. He paddled out, swung around caught his first wave. He stood up like it was meant to be… and from the first wave… he fell in love.
From that point he did what he called his 365-day challenge where he surfed every spot on the South shore from Waikiki to Kewalos, not only surfing the spots, but diving the reef to understand the break from a different point of view.
In this same year, with no shaping experience, he would also be invited by friend Joe Kaula to start shaping boards at Surfboards Makaha. He quickly advanced as a shaper and a surfer and less than 2 years later, in 1966, he would surf on his own board in the Duke Kahanamoku Invitational at Sunset with his best friend, and my older brother's godfather, Eddie Aikau.
Being Hawaiian born and raised, you've always felt the connection between yourself and your natural surroundings. But have you ever considered taking on a different path other than being a shaper and a surfer?
I actually did and was fortunate to have family that supported me with whatever I chose to do. As a rebellious teenager, not wanting to be in the shadow of my father I wanted to do everything and tried it all pretty much. From soccer, to ice skating to playing guitar and singing as a front man in a rock band for quite a few years which was fun ride…
Surprisingly enough, knowing that making it as a shaper is grindy work, my father was very persistent that I wouldn't chase a shapers path and he insisted I follow a career path as a young adult…
I did the rat race for a number of years… but that pull to being who you are meant to be is inescapable and I'm thankful that life's path put me right where I belong perpetuating the family name.
How long have you been shaping?
We grew up in the foam… in my dad's shaping rooms, shops and factories. The lessons came early and continued throughout the different stages of my life. I even reflect to recently when I went back home to visit with him and I was using his shaping room… he came in, turned a bucket upside down and was sitting on that bucket just watching me. Just like a Jedi master…Not saying a word at this point, but just visualizing and being there in the creation moment (ultimately, he was watching for the mistakes… LOL).
Never gets stale?
Only when someone orders a board that's boring… lol… NAHHHH. It's hard for it to get stale when what you do produces so much stoke and happiness. Getting the emails or texts that a board is performing well is great, but when someone talks about how they had the session of their lives on something you created it feels pretty damn good.
It is estimated that your father has shaped upwards of 40,000 boards. Do you work as tirelessly as you father?
I think that might be on the low side LOL… That's just my dad being humble… I do share the same work ethic as my father and love getting sweaty. It's a different kind of work. It's not like building a road or a house.
As a shaper, you are impacting lives… Building a vehicle that will connect a surfer to the ocean to create timeless moments and an experience that emphasizes what it means to be alive.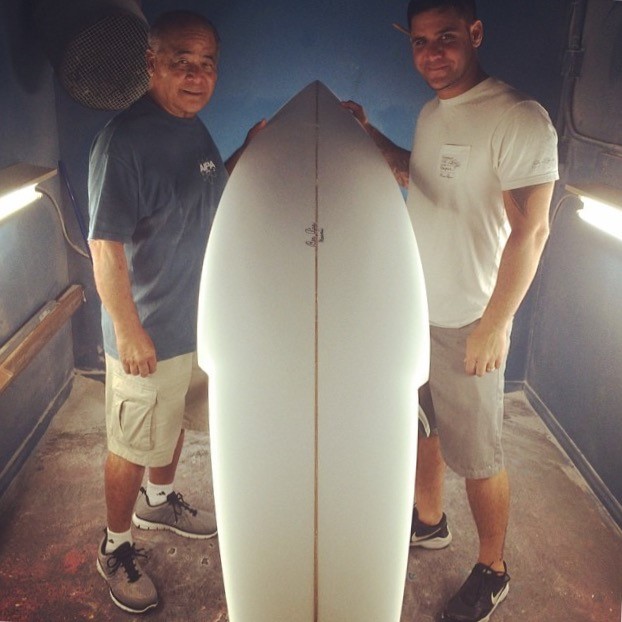 Apart from work, what do you like doing in your free time?
Who has free time? (laughs) Honestly? Loving my wife, coaching my son in his surfing, working with my daughter on her singing. That's my smile, my reason.
What about this new partnership with Lightning Bolt? What does it mean to you to become a Lightning Bolt Official Shaper?
Aipa and Lightning Bolt are 2 of the most iconic surf legacy brands I can think of… Separately our brands have done magnificent things, together it's like combining 2 super heroes together…
We have a super-massive opportunity to not only pay homage to our individual legacies and surf history, but create something so unique that the young upcoming surfers can't help but get stung by it.
The Bonus?… Even tough, in my mind my father is the greatest shaper ever… for me, to be recognized as a talent good enough to be on the same team as guys like BK and Lopez is a whole other level of badass!
Any Lightning Bolt surfer or shaper you look up to?
MR has to be my all-time favorite Bolt surfer… and considering that some of MR's shaping knowledge was passed down to him from my father it only furthers the connection between Aipa and Lightning Bolt. And, let's not forget the Mark Richards Star-Bolt which is what made me think of Aipa Bolt!
So, what if could order a surfboard from any shaper…
It would be from my father… duhhhhhh… but if I had to pick another shaper it would be my brother Akila or MR.
More than a brand, the Lightning Bolt is the epitome of a lifestyle. What does Lightning Bolt represent to you?
Same as AIPA. Lightning Bolt is timeless and rooted in rich surf history. In that history, is the realness and purity of the surf life style.
Mixing Lightning Bolt and Aipa DNA on a surfboard… what can we expect?
The unexpected…\m/
Your father once said: "Surfing has been very good to me", looking back on his long and successful career. Do you feel the same way?
Throughout this interview, I've referenced different vantage points… at different stages of life I feel like I'm on the same path… but I have a long way to go get to the point of retrospect… at this point I'm looking forward.
Aipa Surfboards brand means innovator of the swallowtail and sting surfboard. Is it experimentation a big part of your shaping still?
Absolutely! Like you stated earlier, DNA… Though every design is rooted in my father's style and original templates. I pride myself in evolving design characteristics and applying the principles of visualization of the surfers' desires vs needs, to culminate in creation.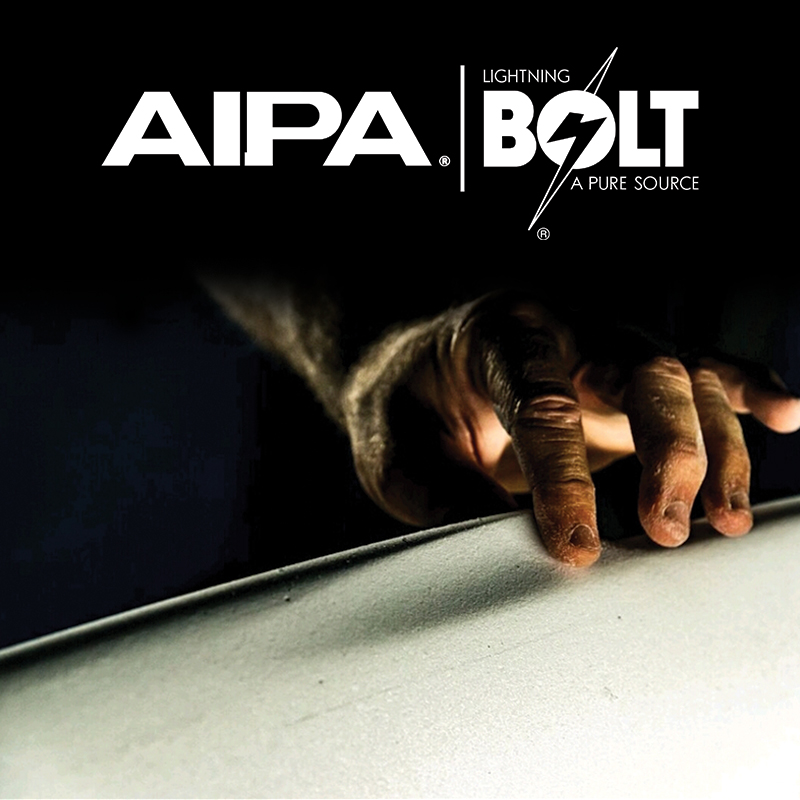 The flipside is just when you think you've innovated something… you can almost guarantee it's been done LOL. The 70's were chock full of innovation… to the likes we will never see again, but that doesn't mean the creative juice is drained.
I think as shapers, as long as you keep you mind open, listen to nature and appreciate the mistakes, something unique will happen.
What is the inspiration that keeps you going?
The thought that this legacy is just beginning… We're in the next chapter now… My father laid a massive foundation for his sons to individually build on, that will be passed on generation after generation.
How do you feel about surfing today?
Performance wise, I think surfing is primed for another explosion, just like in the 70's when performance surfing was born and guys like Buttons and Bertlemann made surfing radical.
Wave pools are going to develop a level of surfing that will increase maneuvers to gymnastic levels of difficulty and with the 2020 Olympics inclusion of surfing, a new breed of competitive surfer will come forward.
That said, I think we have a responsibility as surf legacy brands to make sure to keep the root and soul of the surf lifestyle intact. What it means to be A SURFER.
Is there any advice you'd give a young board designer starting in shaping?
Learn the basics… but don't be afraid of change and progression. Embrace it… After all change is what makes us better.
And lastly, beside the partnering with Lightning Bolt, what do you have in store for this year? Anything we should keep our eye out for?
Well, since my father had to retire, I've been developing ways to not only keep the brand going, but to take AIPA to a whole new level. Aipa has already been an internationally known surf brand and I'm just re-stoking the fire.
We have been developing licensees in key regions of the world to build our boards and grow the brand Internationally. In 2018 we launched Aipa Brazil. In 2019 we launched Aipa Peru (servicing pretty much all of the west coast of South America). 2020 brings in the launch of Aipa Australia/Bali with eyes set on Japan and China by years end. Aside from surfboards, we are actively preparing to develop the apparel side of the spectrum.
Mahalo! Team Bolt
Photos Courtesy of Duke Aipa.