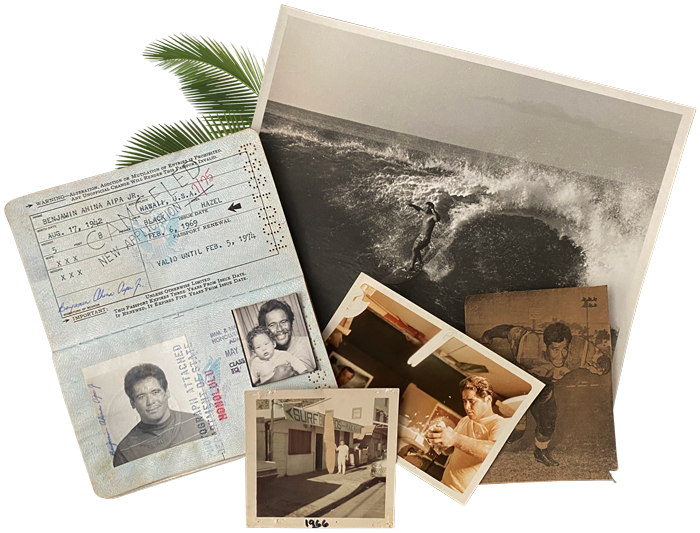 Ben Aipa
Making a statement on the wave - not with his words.
Ben Aipa has made a most significant mark in the world of surfing: making the board that fellow Hawaiian Fred Hemmings used to win the World Championship in 1968 and founded his own brand Aipa Surfboards in 1970. Ben invented the doubled-edged swallowtail design in 1972 and followed this with the split-tail design in 1974. Moreover, Ben has served as an informal coach and trainer to such top surfers as Michael Ho, Larry Bertleman, Mark Liddell, Sunny Garcia, Brad Gerlach, and Kalani Robb.
Ben Aipa continued to enter and compete in various surfing contests: He won the grandmasters division of the 1989 United States Surfing Championship and the legends division of the 2000 U.S. Championships. Inducted into the Surfing Hall of Fame in 1992, Ben was named one of the Top Ten Shapers of All-Time by Surfing magazine in 2004.
A Legend is Born
The Son of a Kauai Sugar Plantation Worker, Ben was toughened by his Uncles growing up as his dad left to be a merchant marine. Later, as a teenager, he moved to Oahu to help support his mother and siblings working in the pineapple fields, shining shoes in downtown Honolulu and diving for coins thrown off of tourist liner boats at Aloha Tower.
Ben, a man carved by his own intention, to dominate whatever he did. From middle school to high school Ben Aipa was a fearless competitor in swimming, weightlifting, and football (later becoming a semi-pro football player).
SHAPING HIS LIFE
Ben started shaping the same year he started surfing. Surfboards Makaha was in need of some additional help so his friend Joe Kaula went over to Ben to see if he wanted to shape. Ben welcomed his offer. Joe showed Ben the fundamentals of shaping and Ben took to shaping like an eagle to flight. 
"For Eddie Aikau and myself, competing was more of a challenge, having to prove ourselves as Hawaiians in the surf because all those competitions were run by outside people."
1 year after learning to surf, Ben paddled out with Eddie Aikau during the 1965 Duke Invitational to make a statement that Hawaiians should be invited to surf in the contests held in Hawaii…In our own backyards.
DUKE INVITATIONAL
Shaun Tomson on Ben Aipa - "In 1967 I read an article about 2 up and coming surfers called Hawaii's New Breed - one was Eddie Aikauand the other was Ben Aipa - it's been over 40 years since I saw the mag but I still remember that title and a pic of Ben doing a massive bottom turn. Massive is the operative word because back then surfing was more about delicacy but Ben's maneuvers were brute force - carving, power surfing before the approach existed. Sure, now we know about Ben the shaper and his relationship with Larry Bertlemann and Buttons. What isn't known as much is his contribution to modern surfing - "I believe he laid the foundation for what was to become power surfing."
HE'S STINGING THE WAVE!
"...with Larry Bertlemann as a kid, I would drop him off at Diamond Head and walk back up the hill to go back to the shop. I'd turn and watch him at Lighthouse for a moment, and I could see what he was attempting to do, with the board he had, in the conditions that were there. I knew he was the future. So I went back to the shop and imagined the kind of board dynamics he'd need, to get the maneuvers he was attempting done."
Ben had modeled the Sting after the hydrofoil boats that he had seen racing at Ala Moana. The amount of release he saw from the break in the outline was what he saw that Larry needed.
Ben shaped the first Sting and gave it to Larry. What he was doing was futuristic. Watching him, I said to myself "he's stinging the wave!" That's how I developed the name for the design. And with that, The Sting was born.
THE STING GOES VIRAL
In 1974 The Sting was born. Introduced to the world through The Stingmen; Kaluhiokalani, Larry Bertlemann, Dane Kealoha, Mark Lidell.
Word traveled fast about the new design, especially after Mark and Buttons appeared on the cover of Surfer Magazine with their Stings.
Australian rising star and future four-time world champion Mark Richards noticed, too, and he also began riding Aipa's Sting at this time.
Ben shaped a series of Stings for Mark Richards. Mark eventually asked Ben to move the wing further down the board closer to the tail. This is the beginning of what would become the winged twins. In time, Mark would move on to shaping his own boards under his own label where the Ben Aipa influence is strong.
AIPA-BERTLEMANN EFFECT
Bens surfboard design which allowed his surfers to radically change surfing also impacted the future of skateboarding. Ben brought Larry and Buttons to California and introduced them to Jeff Ho and the Z-boys.
Modeling the moves of legendary Hawaiian surfer Larry Bertlemann, the Zephyr Boys developed their own radical and distinctive style on land.
COACH BEN
The first surf coach of his kind…Ben Aipa took his knowledge of football strategy and applied it to surf coaching. On top of coaching the Hawaiian surf team and numerous occasions, He individually coached some of the best surfers in the world! Sunny Garcia, Bethany Hamilton, Brad Gerlach, Taylor Knox, Conan Hayes, Bruce and Andy Irons, Koa, Alex Smith, and countless others.
As a testimony to Ben Aipa's impact on surfing, in 2004, Bethany Hamilton Accepting her title at the awards banquet to a 500-person standing ovation, thanked her coach, "Ben Aipa and God"